Support Staff
---
Venita Phillips has been working as a secretary/office manager in a criminal defense office since 1981. She worked with Steve Kelley, Attorney at Law, prior to his untimely passing in 1999. Mr. Kelley was a very prominent Criminal Defense attorney in Ellis County and North Texas.
In 1999, Venita joined the Mark D. Griffith & Associates team and has proven to be an incredible asset in every way. There is no client that walks into the office of Griffith & Associates that does to feel welcome and taken care of when they speak with Venita.
Griffith & Associates has a thriving criminal defense practice, and Venita keeps the office moving smoothly and efficiently at all times.
There have been clients, after their case is successfully concluded, who hug her and thank her for her kindness and her concern.
She is truly an asset to the Griffith & Associates Ellis County criminal defense team.
---
Katie Pettit came to us in 2017 with 2 years criminal defense experience in both Ellis and Dallas counties. She has a passion for helping people which makes her a valuable member of the team.
Outside of work, Katie is the mother of two very active children. When away from the ballfields, she enjoys boating and outdoor activities in general.
Her compassion and understanding ensures that she will always make our clients feel comfortable and cared for.
---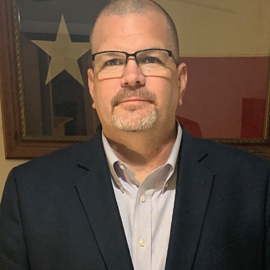 Investigators on Retainer
Professional, Experienced, Licensed
---
We serve our clients by obtaining the evidence they need to have a fair and successful trial. Bryan McGee has more than 22 years of investigative experience and specialized training in all aspects of complex criminal investigations. Mr. McGee has investigated the most complex investigations ranging from Capital Murders, Robberies, Sex Crimes, etc. Mr. McGee gives each case the same degree of attention to detail that our clients deserve.
Mr. McGee conducts an extensive exploration and analysis of evidence and witnesses, allowing the attorneys time to focus on court strategies and procedures. He will examine the facts of each case to help determine if it meets procedural and legal scrutiny. Mr. McGee is thorough and aggressive in his discovery of information that will improve the chances of a favorable outcome in your case. Bryan McGee is a critical member of the Defense Team who serves our clients with the highest degree of integrity and discretion.